NOW RELEASED FOR MAC AND WINDOWS!!!
Quote:
limera1n, 6 months in the making
iPhone 3GS, iPod Touch 3G, iPad, iPhone 4, iPod Touch 4G
4.0-4.1 and beyond+++
limera1n is unpatchable
untethered thanks to jailbreakme star comex
brought to you by geohot
hacktivates

donations keep support alive
zero pictures of my face

changelog
BETA1 - first release
BETA2 - fixed kernel patching magic, rerun BETA2+ over BETA1
BETA3 - fixed new bootrom 3GS
BETA4 - uninstall fixed, respring fixedish
Now comes out of BETA!!!
Detailed instructions:
Step 1:
Download Limera1n
Step 2:
Connect your iPhone via USB to your computer and click on "make it ra1n" .
Step 3:
Now follow the following steps in this order:
A. Now wait for the device to enter recovery mode.
B. Now hold "Home" + "Power" buttons.
C. Release the "Power" button.
D. Now wait for the device to enter DFU mode.
Step 4:
Once you are done with this, you will have the limera1n logo on your iPhone's screen. Limera1n will now inject the bootrom exploit to pwn your device forever!
Step 5:
Jailbreak is done!
Step 6:
Now start Limera1n app from your iPhone, and install Cydia.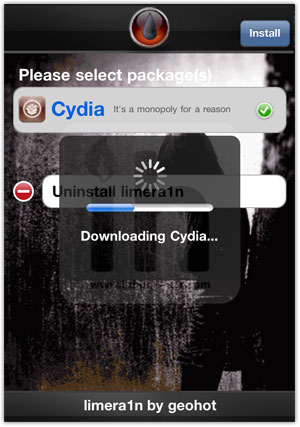 Step 7:
Now simply restart your device and enjoy the jailbreak
Step 8:
Go back in to Limera1n and uninstall Limera1n app.

Download:
Limera1n Windows| Mac