Hi, buddY...
TodaY, we Would Like to ShAre FEw AppLicAtion WhicH is LovabLe foR s60v3 usER
DowNLoaD FReE Top PoPULar GamES And APPLicaTiON oN SYmBIAn S60V3 herE

AnimSpriteLite v2.33.S60v3.
AnimSpriteLite is a nice program to display animate pictures at standy desktop and works with gif files.
Just look for a gif that you want and put it on e:/data/animsprite , you can choose or change it everytime you want.
Zeus Quest
(symbian game .sis)
The game is fully translated
into several languages:
English
Deutsch (German)
Ελληνικά (Greek)
Italiano (Italian)
Français (French)
Español (Spanish)
It's symbian game and the size is
10Mb.
Tested on Samsung i8910HD


Zeus Quest is a brand new, huge and funny adventure game with gorgeous cartoon graphics*. The humor reminds us the old classic adventures games by sierra and Lucas.


The plot is crazy! You are Zeus the boss of Olympus which comes back to earth to save the planet. Everything is happening at the classical ancient Greek period (1000-300bc) but you have the chance of switching ages though a time machine…

Visit many Aegean islands including: Santorini, Delos, Mykonos, Milos, Karpathos and Crete. Solve many riddles, play some mini games, interact with ancient Greek mythology characters with hilarious dialogs and at the end… try to save the planet!

FEATURES:
* Play over 50 different places on the Greek islands.
* Interact with many funny characters from the Greek Mythology.
* Play many mini games.
* Day – night conditions and hidden extras.
* Translated into 6 languages.
* Brilliant high resolution cartoon graphics.
* Compatible with most of the platforms and phones.
--------------------------------------
INSTALLATION PROCEDURE:
--------------------------------------
For Symbian S60 users:
Just install the SIS file and run it.
--------------------------------------



Slick (SyMbian ChAttIng)

Slick is a messenger application for mobile devices.
It allows you to chat with your friends connected though
various online messaging applications.
Currently it is still in development, an alpha version
is available for free for public testing.
Supported protocols:
ICQ, Yahoo, AIM, MSN,Google Talk,Jabber
Text messaging
Emoticons
Alerts – sound, backlight, vibration, notify window displaying number of new messages
Group and buddy management (add, delete, rename)
Message history
File transfer – send and receive files
Sending / receiving offline messages
Downloading files sent as links
More features to be added
profimail v.3.22


ProfiMail is an application for your everyday life. It is a communication solution for your mobile device. Wherever you go, you have your e-mail with you. With the program's user interface, you can see a great part of the message on the screen at a time, and easily navigate during reading.
You can use ProfiMail for your professional work - reading documents sent in messages, comfortably answer to sender, or send documents from the device.
You can also use ProfiMail for being in touch with your friends, who use e-mail on a desktop computer. For example, you can immediately send photos taken with the phone's camera.
The program was designed to be as simple as possible, while offering very easy control, and many useful functions, essential for comfortable work with your e-mail.
From now on, don't be tied to your desktop PC anymore. Simply have all your e-mail always available anywhere you go.
Features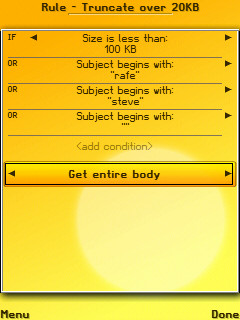 * Automatic synchronization of messages with the mail server
* IMAP folders
* Attachments - view, save, send
* HTML messages with images and hyperlinks
* Built-in File Explorer
* Push email - instant notification about new messages (using IMAP IDLE)
* Address book
* Signatures
* Support for POP3 / IMAP / SMTP mail servers
* Writing mails using T9 dictionary (if available on phone)
* Multiple email accounts
* Rules and filters allowing selective message download
* Opens and browses ZIP archives
* Support for various character encoding - Western, Cyrillic, Central European, and more
* Build-in image viewer for JPG, PNG and other popular formats
* Text viewer for standard text, HTML and Word documents
* Optimized for GPRS - get headers first, then download message bodies which you really want to see
* Scheduled message download
* Sound notifications
Download:
jar resize | animspritelite | zeus quest | slick | ProfiMail