Assalamu'alaikum
hikss, betapa menyedihkannya..
blog ini yang kemarin lalu nangkring di urutan atas search indeks google eh, tiba-tiba menghilang ditelan kegelapan dan berhembus entah di angka ke sekian ratus indeks pencarian..
Oh My Gosh.. wat i supposed to do..
apa karna ada content na yang copas yah..
Ato karna jarang update?
Perasaan mesti ke update ko walo jarang..
Emang susah mempertahankan sesuatu, klo merebutnya se gampang, ketchill
abis males deh kalo nulis artikel about software tertentu trus qta nulis dhewek
kan tapekk..
HAlahhhhhHHHhhhh
apa daya..enjoy aja.. :D
Well, kemaren lalu ada yang ngerequest aplikasi x-plore..
humm..disini q sediain aplikasi itu khusus n special wat kalian..
yuppzzz
selamat mencoba
to the point yah..
langsung sedhot ajahhh !!!!


X-plore
X-plore is a file manager for mobile devices,

Originally, X-plore was included as a plugin for ProfiMail, called ProfiExplorer. However, realising the need for a powerful file manager, LCG developed it further as a standalone application. LCG's other creations (SmartMovie, ProfiMail, MauMau) share one common factor. The look and feel broke the original S60 UI guidelines. X-plore is no exception. The menus, layout and overall interface don't feel like UIQ 3 at all.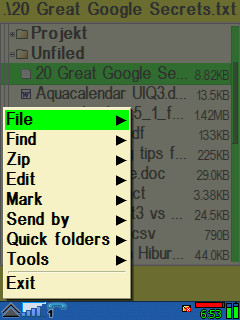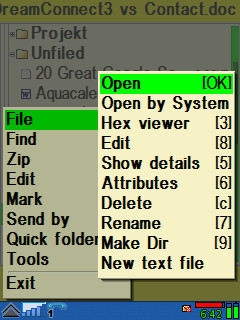 The main menus and submenus
Everything is done differently here. The main menu and sub-menus are located at the bottom left. The default fonts are tiny and it's almost impossible to use fingers to navigate. Luckily, there's an option to use a larger font from the "Configuration" menu. The screenshots in this writeup are using font size "2". When doing file operations like moving or copying files, or adding files into a ZIP archive, it presents a nice indicator showing the percentage of the process. Very neat.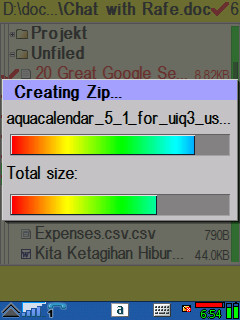 Progress indicator
Files and folders are presented in tree structures, which is good because it feels like using Windows Explorer. However, when you go deep into the file system, you could be lost, but fret not because there's a "Quick folder" feature, where you can set up to 10 shortcuts to access your most common folders.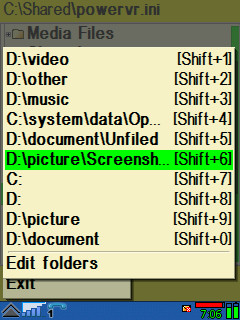 Quick folder for fast access to favourite folders
File viewers
Yes, UIQ 3 has built in viewers for common file formats, particularly DOC, XLS, PPT, PDF, TXT, JPG, PNG and a handful of others. But for unknown reasons, these built-in viewers are slow. Try opening a huge DOC file in QuickOffice, you'll see how sluggish it can be. For those who want an alternative, X-plore provides file viewers which are different from the built-in ones. It can open DOC files very fast, but only text is displayed. Embedded objects and tables are ignored. The photo viewer is also particularly good, with zooming support. A request to LCG : please include a PDF viewer in X-plore.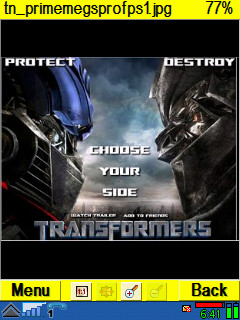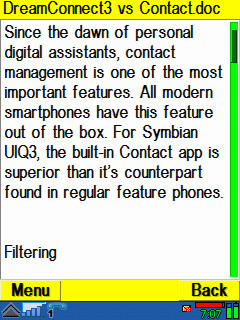 X-plore's photo viewer and DOC viewer
Another highlight is the ZIP and RAR function. It is the first utility to offer a built in RAR and ZIP manager. You can browse archive contents and extract them to other folders and also create ZIP archives. For those who are more adventurous, there's also a Hex editor for you to peep into a file's contents.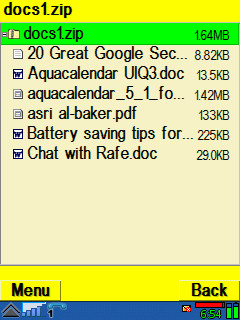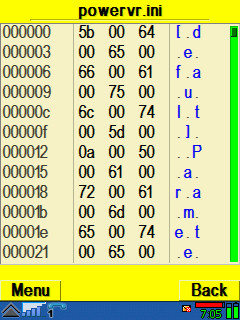 Zipper and Hex Viewer
Customisation
If you dont like the default colour, you can choose from 7 different colours available. You can also tell it to display or hide System folders (be careful here, you must know what are you doing). More customisation options are available under Tools - Configuration, such as changing the UI font, protecting X-plore from other people with a password, etc.
Flip Closed (FC) mode
All functions work perfectly in FC mode. File operations can be done either using the Menu softkey or using the numeric shortcuts which are laid nicely next to the menu. For example, number 2 for moving files to other folders, number 5 for file properties, and so on. But there are some confusing menus. "Mark All" is set to Shift + Right. There is no shift button in the P990 FC mode. The developer should not have mixed it up with S60. Or am I missing something?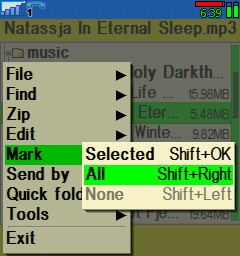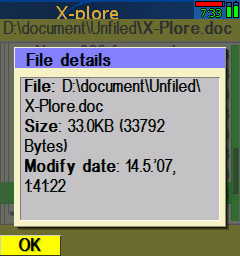 FC mode. Note the "Mark All" shortcut is labelled as "Shift + Right". But where is the Shift button on P990 FC?
Pros
Adds lots of functions to UIQ3
Speed. It's fast!
Customisable
Cheap
Works in both FO and FC mode
Shortcuts for common operations
Cons
Non standard menu
No PDF viewer
with a wide range of functions on the phone's file system.


This software is shareware, with a friendly price
and a relaxed registration option.
Use the unregistered version as long as you wish.

If you like the application, please buy it - you'll get faster application start-up and close, customer support, free upgrades, and you'll help us to further improve this application.


Features
View all drives / folders / files on phone in tree view*
Integrated text and image viewer
View file details
Edit file attributes (hidden, read-only, etc)
Rename and delete files
Create or edit text files
Create folders
Multi-selection
Copy or move files and folders
Send files via Bluetooth or infrared
Extract files from Zip, Rar, Jar archives
Pack files to Zip archive
View Word documents
Hardware device info
View processes and tasks**
Built-in program updater
Viewing, saving files in messaging folders
Hex viewer and editor
Search files
Folder hotkeys
Simple audio player
Simple video player***
* Protected folders on Symbian 9.x are not accessible
** Available only on Symbian 6/7/8
*** Available on Symbian 7.0s and higher

1.00 - Initial version
1.01 - Packing files to Zip archive, small bugfixes
1.02 - Selectable UI font size, details of multiselection, key shortcuts for Mark all/none
1.05 - Windows Mobile version, small fixes
1.10 - Russian, German language
1.11 - Czech, Magyar, Portuguese, Slovak, Spanish, Turkish language
1.12 - Belarusian, French, Italian language
1.13 - Polish language, support for cards > 4GB
1.15 - Simple audio player, opening Word 2007 documents
1.20 - Simple video player, Latvian, Romanian language
1.21 - Chinese language
1.22 - Restart option on Symbian S60 3rd ed, Dutch, Azeri language
1.30 - Using phone theme (Symbian S60 3rd ed, UIQ3), fixed hex editor find, fixed shift key editor
A file manager is probably one of the first application you would need on your device. Two of the most known ones for the Series 60 platform are:

FExplorer, a freeware application by Dominique Hugo

FileMan, a commercial application by SymbianWare
Is FileMan worth its price compared to the free FExplorer? This is the question we will try to answer in this article.
The match will be made of four round:

main view

file display

file manipulation

misc.
The opponent are FExplorer v1.10 and FileMan v1.0.
Round 1: The Main View
The main view is the most important for a file explorer: it is where the file and directories are listed. Both applications are very similar on this point:
You can navigate in the directory tree using the up/down/left/right keys and open a file with its default application using the OK key in both cases. FileMan can customize the right softkey ("Operation enu", "Mark/Unmark", "Select menu", "Send as", "Back/Exit") while FExplorer can just use it as exit key.
The association between the file and its associated application is made by a file recognizer on FExplorer while you can also use a data recognizer on FileMan : this is quite interesting since file recognizer is not a documented feature of Symbian OS.
And finally, FileMan can sort displayed file by Name, Extension, Size, Date or Type, while FExplorer always displays results by name.
FileMan wins ths round:
FileMan: 1
FExplorer: 0
Round 2: File Display
A second important usage of a file explorer is its ability to display the content of a file. The minimal requirement is to be able to display a file content in text format. A very useful requirement is also to be able to display it in hexadecimal format.
No surprises for the text view, both applications use the default NS60 Notes application. This is a little bit limited from my point of view but is enough to read simple text files:
FExplorer also has a very simple built-in text viewer which allows more text to be displayed on a single screen. Nice for log files. Even if the start of this viewer is very slow on big files and produces some really strange displays (which disappears once the text is on the screen):
It's a pity that none of the two can display the content of a binary file. I sent some code for this to Dominique Hugo a few monthes ago and I got a preview version of FExplorer with Hex display enabled, so this will probably come out soon (Dominique, are you still there ?).
FExplorer wins this round thanks to its built-in viewer:
FileMan: 1
FExplorer: 1
Round 3: File Manipulation
Both applications propose same options for basic file manipulation:

Copy/Cut/Paste

Rename

Delete

Send via Email, MMS, Bluetooth and Infrared.
FileMan is slightly easier to use since you can have direct acces to this operation through the right softkey.
Search options is the first real differentiator between the two applications. While both of the support file name search (with wildcard support), FileMan adds an advanced mode which also combines:

File date (search file modified during a specific time period)

File size (specifiy min and max file size)

Search path restriction (whole device, current dir only, current dir and subdirs,...)
And finally, FileMan has another very nice feature which allows to display file characteristics (size, last modification date, UIDs, mime type,...):
FileMan is a clear winner of this round:
FileMan: 2
FExplorer: 1
Round 4: Extra Features
Both applications have a few extra features that are quite nice. FileMan can :

display the content of the "Mail" directory (i.e. the inbox) as a flat list of files. Those who often exchange data using Infrared or Bluetooth will like this!

bookmark some directories so that you can access them directly from the top level screen.
FExplorer has a totally different approach and offer:

a screen capture tool (most of the screen capture presented in this article have been made using it)

a phone and network information tool which present : phone IMEI and firmware version number, visited network name and MCC/MNC, cell id
Difficult to differentiate between the two applications. I am a heavy user of FExplorer snapshot feature but I really like FileMan inbox list and the bookmarks. One point for each.
FileMan: 3
FExplorer: 2
Conclusion
FileMan is the winner of this software review because most of its features are really well implemented. And despite its poor ability to display text file content and the incredible lack of binary file dump, it is a great tool. You can download an evaluation version or buy a copy from our sofware shop.
FExplorer is also a very good file explorer. It was mine before this review. It's however a bit behind FileMan. But is the difference worth the price of SymbianWare's application ? It really depends of the usage you will have of a File Explorer.

FileExplorer is a free browser for the Nokia S60, it allows you to manipulate any files, you can use the cut/copy/paste functions thru the directories, you can also send files via bluetooth or infrared, mms. you can open the files directly, Other usefull functions are also available such as making or removing directories, keep the light always on, perform screenshot, restart the phone, find the files, view IMEI and firmware version, view network, edit a file, set a file as operator-logo ... and more coming soon !!!! Also available in german, finnish, italian, czech, slovak on request.

Hot Keys
<с> Delete file
<1> Copy
<2> Show path
<3> PageUP
<4> Cut
<5>
<6> Top of list
<7> Paste
<8>
<9> PageDown
<*> Root dir
<0> mark/unmark
<#> File Properties


download